Photo Pendant UK are very pleased to add a range of diamante encrusted photo pendants to its range. There is no gemstone closer in likeness to the diamond than the cubic zirconia, or 'diamante' as it is more commonly known. Diamante jewellery costs a fraction of the diamond alternative, yet the visible result is remarkably close. We offer our Zircon Photo Pendants in rhodium plate or gold plate.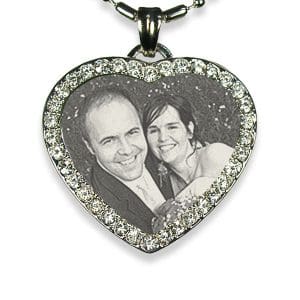 We have a number of different shaped diamante pendants available, including circle pendants, which are suitable for images of faces; ID-tags which are suitable for portrait images; and heart-shaped pendants, which make a stunning anniversary or Valentines' Day gift, with an image of the happy couple engraved on the face. The diamante border of the engraved image enables the wearer to display all of the style and class of someone who spent much more on real diamonds.
The small gems also provide a glamorous frame to the engraved photo, drawing attention to the image in the middle. Visit our website to see our full range of stunning Diamante pendants.