The quality of photo you supply will determine how well it reproduces on a Photo Pendant.
If you want us to advise on the suitability of your photo before ordering please
Email your photo to: [email protected].
The smaller the pendant you choose the less detail can be engraved or printed.
Each pendant listing recommends how many individuals can fit well.
The larger pendants allow a greater level of detail to be reproduced from the original photo.
The Do's and Dont's of Photo Requirements:

Submitting a photo with even lighting is important as it allows for the engraving to capture all the contours and details of the face. When the faces are overly flooded in light or bleached by flash, the machine won't be able to engrave the most accurate and detailed replica of your photo.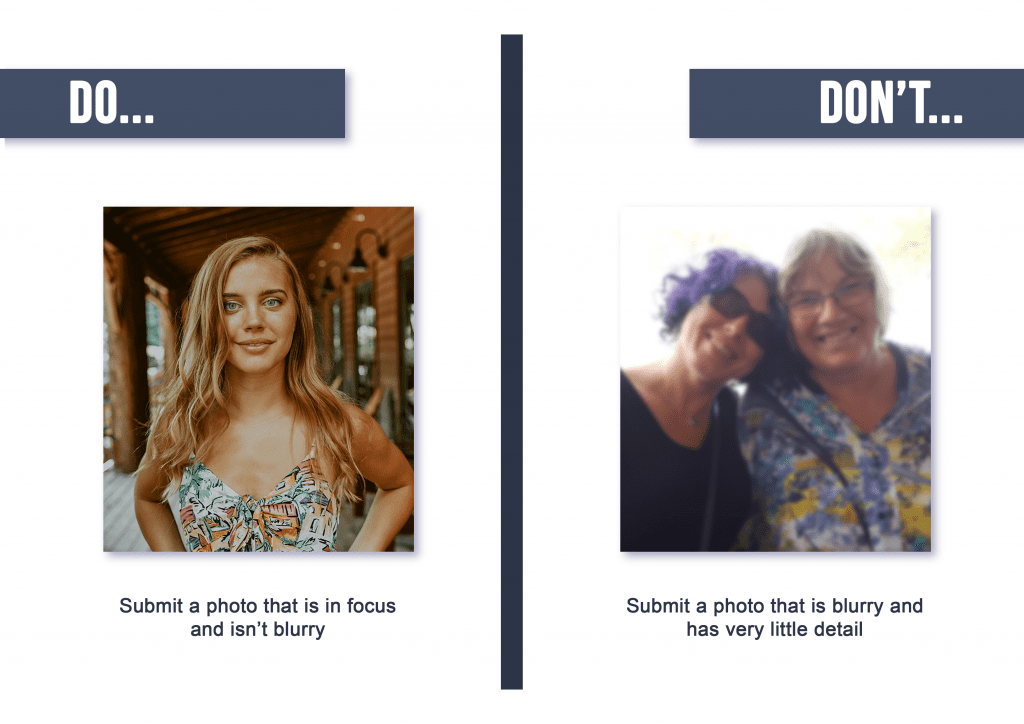 It is important that you submit a photo with decent quality so that we can produce a detailed engraving of your loved one. despite having a team of editors who are able to make photos reproduce as well as possible, a higher quality image will always produce better results.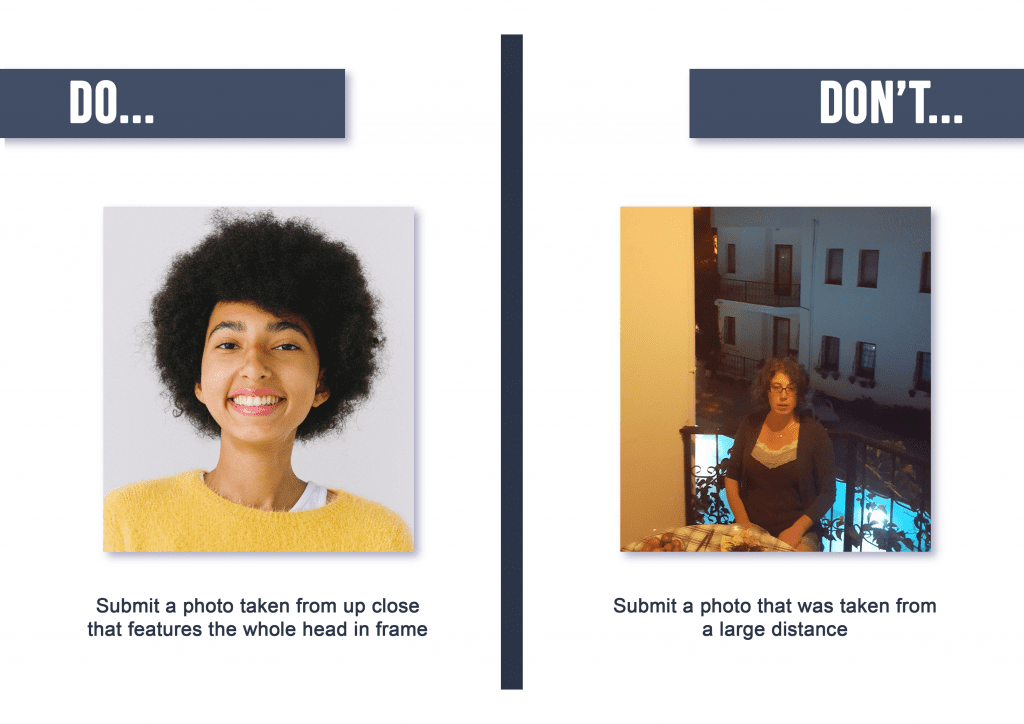 When taking / choosing a photo for your Photo Pendant, make sure it's one that was taken from close up to the subject, and not from a long distance away. The further away a photo is taken, the more detail is lost.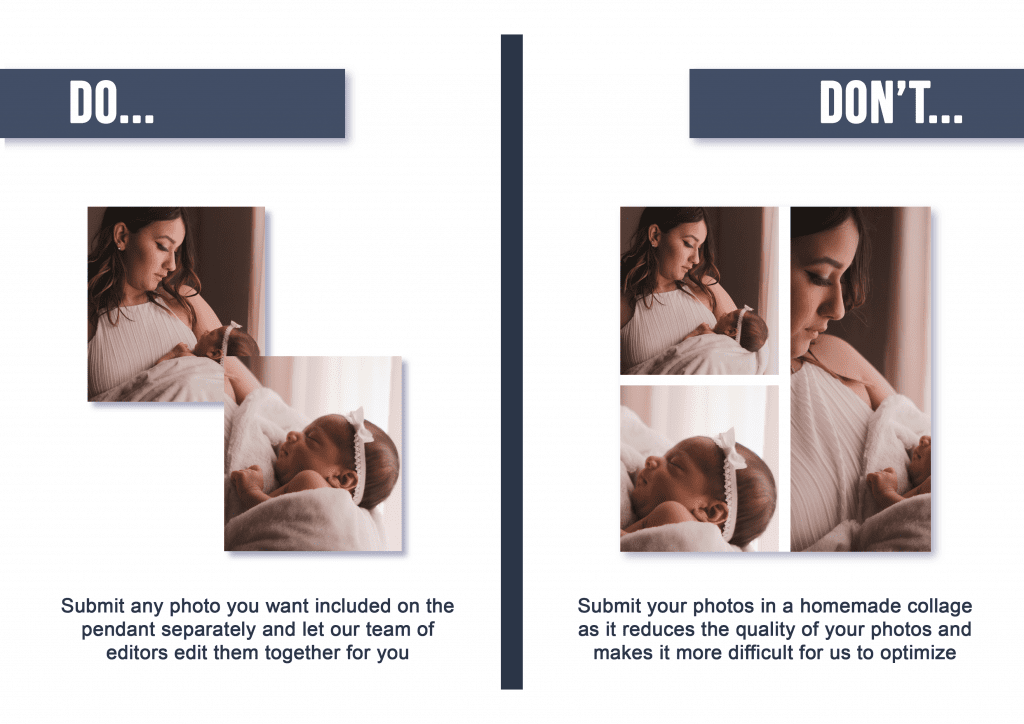 With our photo merging range, we offer a service in which you can submit multpile photos and our team of editors will edit them together on one pendant. When submitting your photos for one of these products, make sure you submit them induvidually and not in a homemade collage. Submitting your photos in a collage makes it more difficult to make them reproduce well on your Photo Pendant.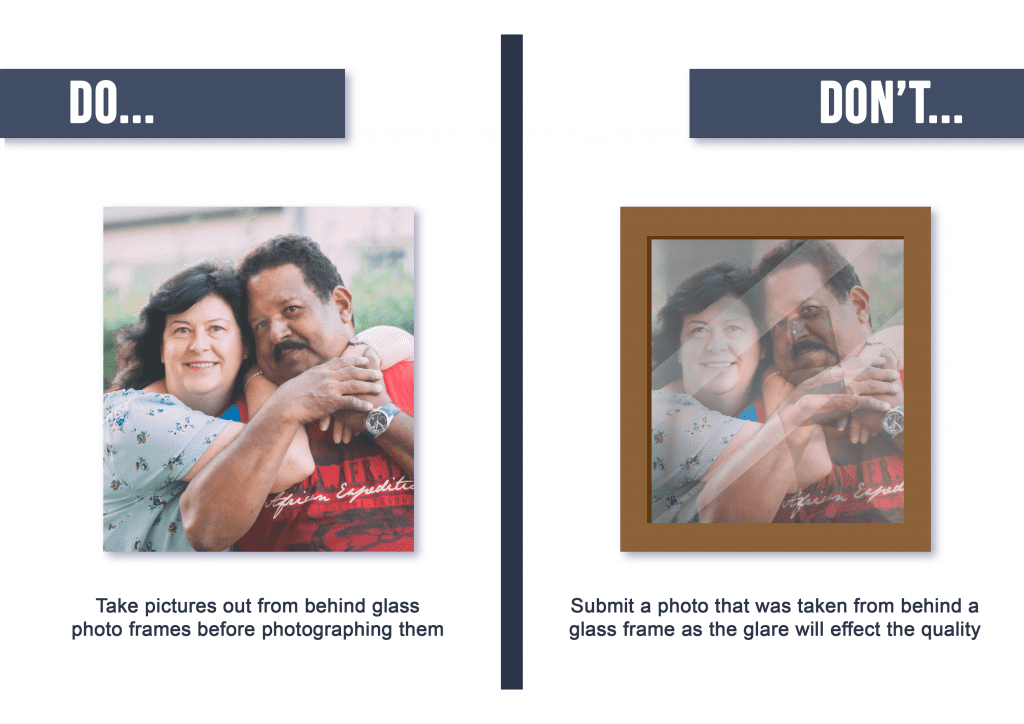 If you need to take a picture of an old family photograph using your phone, that's completely fine, just make sure you've taken it out from behind the glass frame first! Glass is reflective and can bleach a lot of detail in your photos, leading to a less desireable outcome.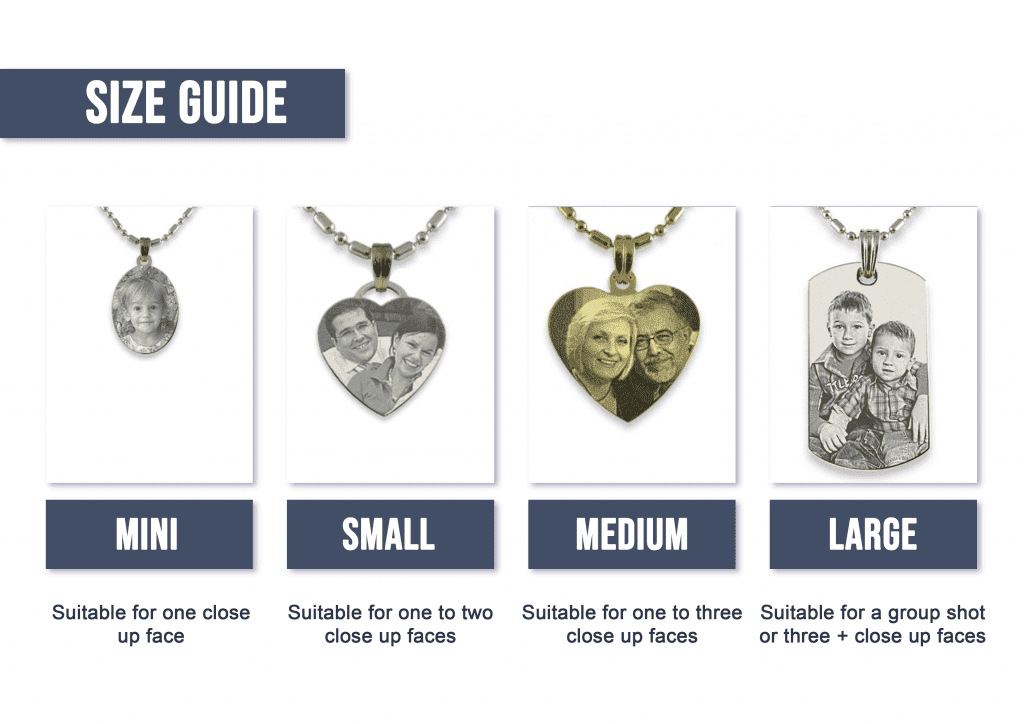 When choosing a product to put your photo on, keep in mind that the smaller the photo – the less detail can be engraved. Due to this, we have a maximum amount of faces that can be engraved on certain pendant sizes as seen above. If your photo exceeds the maximum amount of faces for that product, it will be rejected.
More Helpful Information:
Once you have recieved your photo pendant, make sure you're taking proper care of it. We reccomend only wearing it on display outside your clothes. This is because human sweat can be corrosive to the pendant over time. Also, take your pendant off before you go to bed or take a shower.
If you submit a poor quality photo then we can not guarantee it will reproduce well. We can not exchange pendants after producing them.
if we decide the photo will not reproduce well after you have placed an order we will cancel your order but apply an administration fee of 5% of the pendant value.
No returns are accepted nor will a refund be offered as the time spent and materials used can not be reclaimed; the pendant has been made to order.
This jewellery is for display. if you wear it next to your skin it will deteriorate as your sweat is caustic. Please remove at night and when washing.
Their production takes time. There are different stages of production needing different skills.
For good reproduction on a photo pendant a close-up, high definition in focus photo is required. In focus with good contrast will produce the best results. Flash will remove the contrast and negatively impact on the quality we can produce.
COLLAGES ARE NOT ACCEPTED. THEY ARE HARD TO OPTOMISE FOR CONTRAST AND DIFFICULT TO PRODUCE GOOD RESULTS. SORRY.
Please read these recommendations before placing your order:
Your Photo needs to be in focus and have good contrast.
Ideally the subject of the photo needs to be half of the photo size;
Photos with the top of people's heads or other parts of them cropped will reproduce as a blank area on the pendant.
Portraits of a person's face works best.
Avoid photos with bright lights shining behind the subject of the photo.
Photos taken with Flash will have less detail to reproduce.
Photos of printed photos taken with a Phone should be taken without Flash, in focus and the photo should be removed from behind any glass.
We accept image formats: JPEG,GIF,TIFF,PNG,BMP or PDF.
Maximum file size is 6 Megabytes.
If you wish to send your photo by post our address is:
Photo Pendant c/o Photo Memento
1st Floor, The Gatehouse,
Littlegate Road, Paignton,
Devon TQ3 3AZ
Please be aware this will incur a charge of £3.50 and the original photo will be returned to you.