Silver Plate Large Ball Chain
£3.95
In stock - SKU: SILP24IN
24 inch long silver plated ball chain 2mm thickness.
It has a sprung clasp making it easy to use.
This chain is recommended for the larger rhodium photo pendants, such as the portrait pendants.
The larger pendants are heavier and when combined with a thin chain will rub on the wearer's neck.
PLEASE NOTE THESE CHAINS ARE ONLY AVAILABLE TO ORDER IN COMBINATION WITH A PHOTO PENDANT.
Select a chain in the shopping cart after selecting your pendant.
---
Description
This chain is 24 inches long and is silver plated balls with a sprung clasp.
It is recommended for the larger rhodium plate photo pendants; like the
Rhodium Plate Large Portrait Photo Pendant


Rhodium Plate Large Deluxe Bevelled Curved Heart Photo Pendant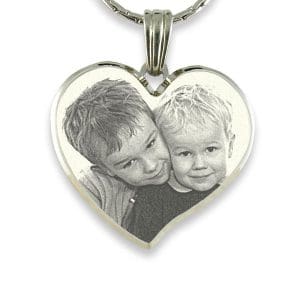 Stunning for the price
Excellent piece of jewellery. Well pleased. Just a tip to be careful if purchasing a separate chain. Ask first if the chain will go through the pendant. Quick service, great site, easy to use. Good communication. Prompt. No issues.